Everything starts within you. There is power, knowledge and wisdom.
Besides my 20 years + business expertise, I'm someone where people open up to. I know how it is to struggle.
I see you. I listen to the words you say and especially that ones you don't. Being successful in Business means to be in balance with yourself.
I help you to get what you want. 
Ralf Lehfeld

Funke Medien

Creative, flexible, fresh and just different from others. Working with Claudia is not for stubborn people with entrenched working mechanisms. She brings color into the game. Who is open to changes and great, positive surprises will not be disappointed.

Marc Evans

Fashion Photographer Milan

It was always great to work with claudia. Her professional way of working was always amazing and more than satisfying. Keep up the good work.

Carsten Flügel (NDR)

Direktor Sonderprojekte Sport NDR

Claudia Scheffler-Perrone ist DIE Ansprechpartnerin in Social Media Fragen. Ihre Ideen und Kenntnisse sind in jeder Hinsicht eine Inspiration .Ihre Analysen haben mein Team und mich nicht nur einen Schritt, sondern einen ganzen Marathon weitergebracht. Und jeder einzelne Schritt war dabei ein Gewinn.

Carolin Desirée Toepfer

CEO/ CTO Cyttraction

Claudia is our secret weapon when it comes to sensitive communications. As a lecturer within our cybersecurity training programs for companies and as consultant. She helps participants not to lose touch with colleagues even in the current home office situation and also to actively address risk topics such as IT security and data protection.
How do you feel in front of a camera? How do you feel delivering your employees bad news? Do you know how to (re)act if a journalist triggers you? Does the spotlight scare you?
Do yo want to increase your salary and you need to talk to your superior? You are not sure how to explain your value to get what you want?
I have so many years experience in teaching and in journalism that I see instantly all the things that go well and can go absolutely wrong. Many people think it's pretty easy to communicate on a podcast, TV, radio or even to their own employees. But unfortunately it's not that easy. And this is normally the point where it becomes viral (in a negative way).
I have people coming to me to be prepared for a difficult speech, an interview, create a video or to talk to the board for a change.
I started with Social Media since the beginning (Instagram, YouTube, LinkedIn, Facebook,..). This is why I usually integrate this tools into the strategy.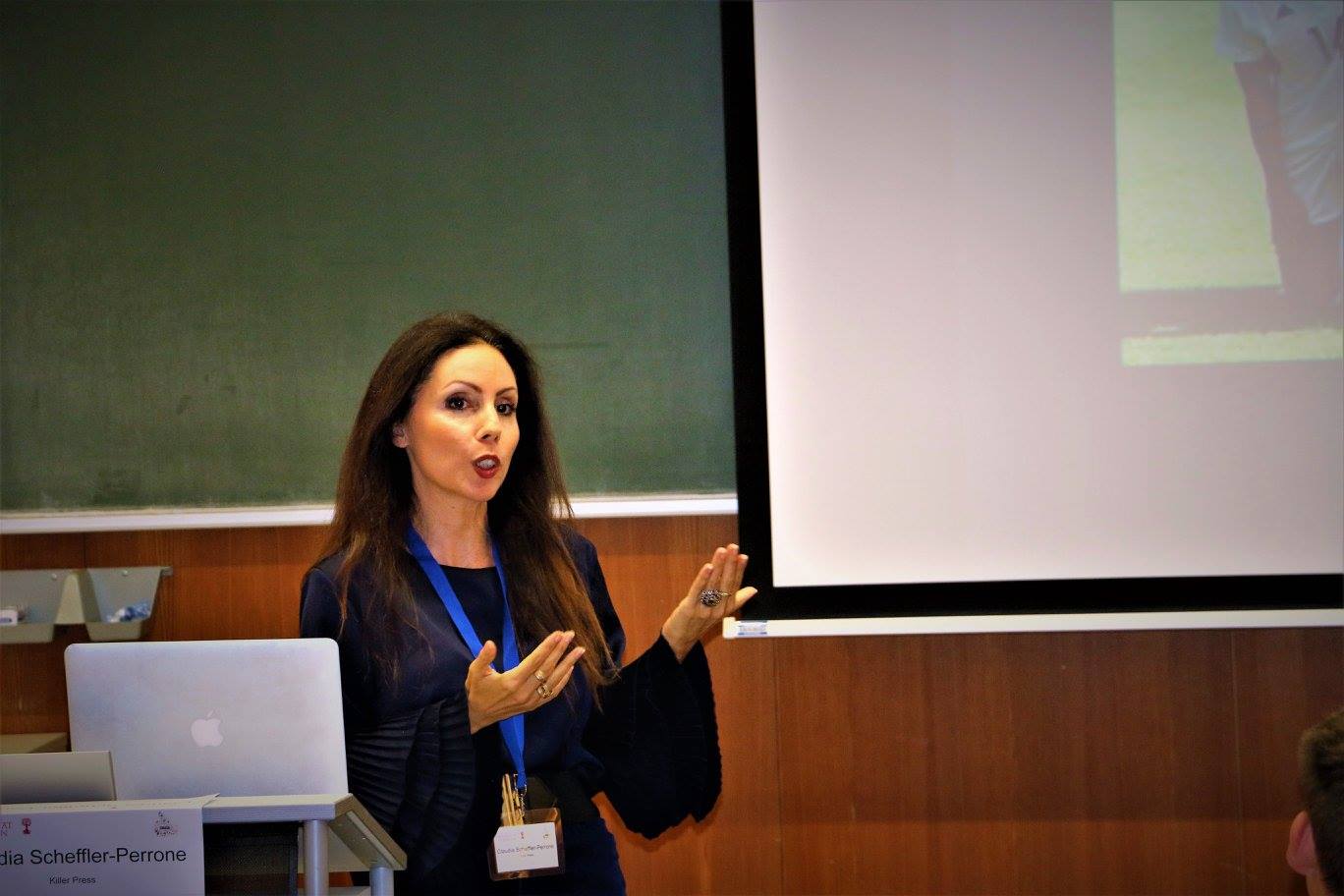 More than 20 years working experience in marketing, leadership and journalism.
Certified individual psychology Coach, Consulter and
Mentor for Leaders, companies, Entrepreneurs and public offices.
Lecturer at private Universities.
Author of two books.
More than 15 years experience in Social Media Marketing and Personal Branding.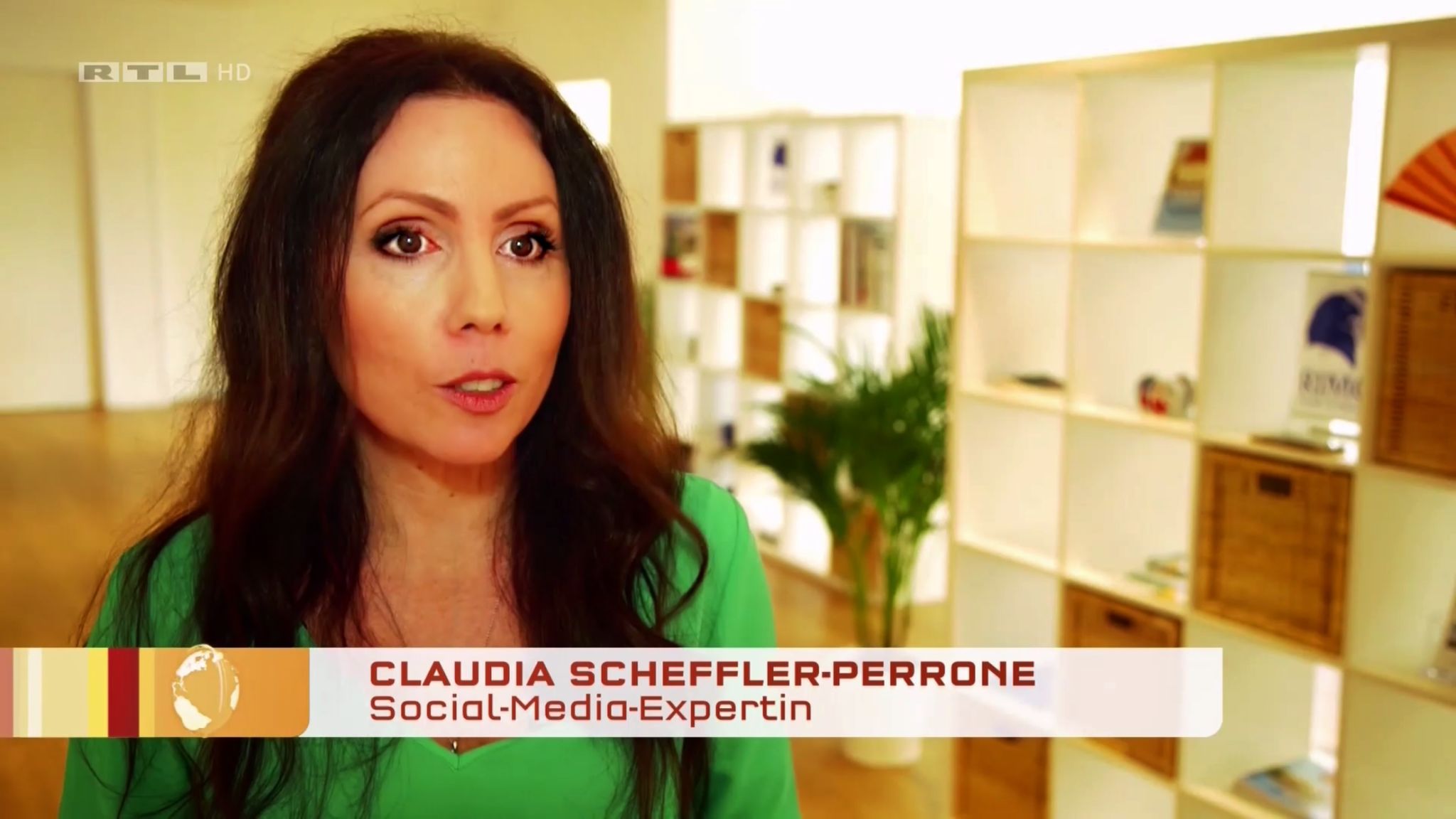 Claudia Scheffler-Perrone Interview for RTL Punkt 12, Social Media Special
Claudia Scheffler-Perrone known from TV, Online and Print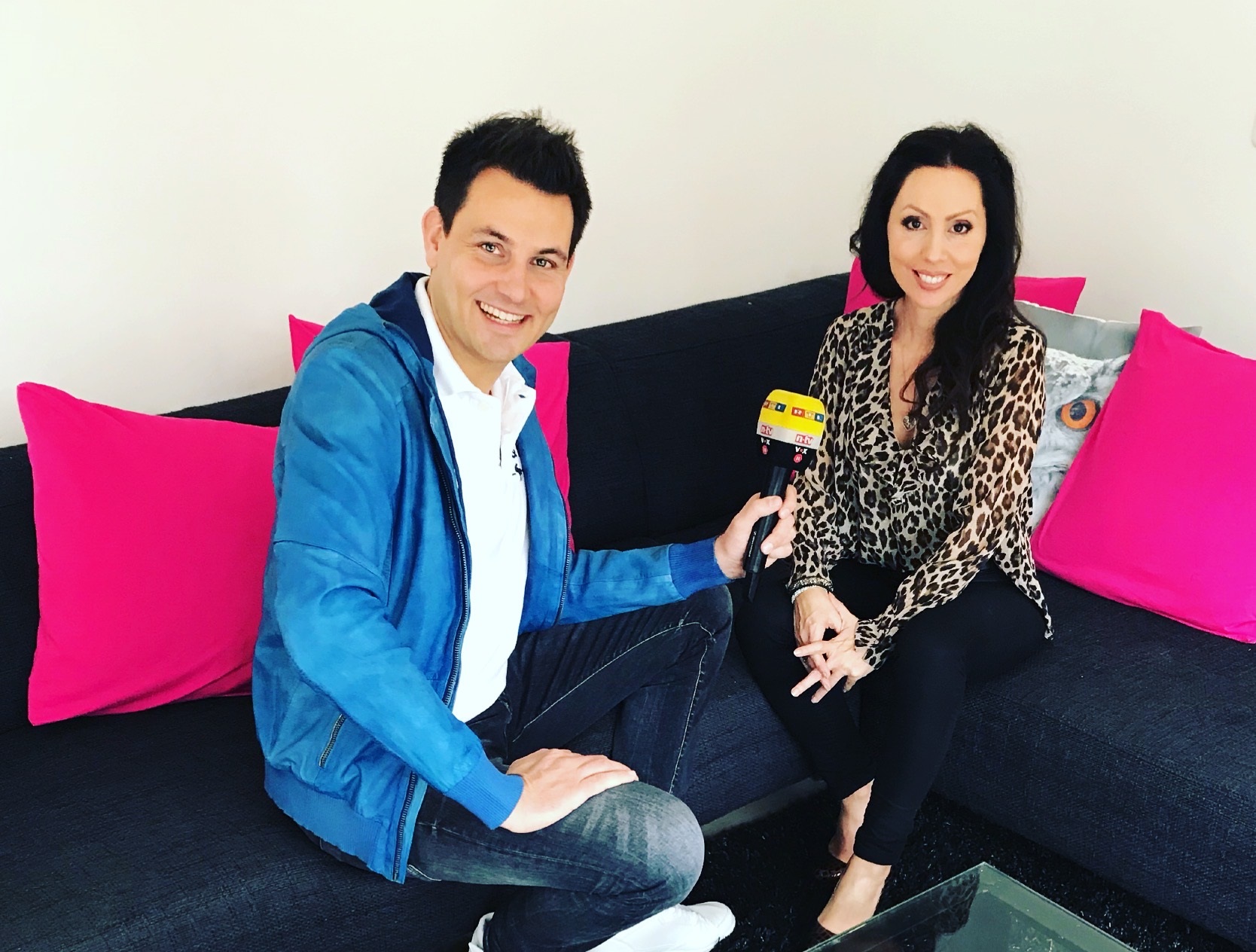 Expert Interview for RTL Televison Germany.
Claudia Scheffler-Perrone known from TV, Online and Print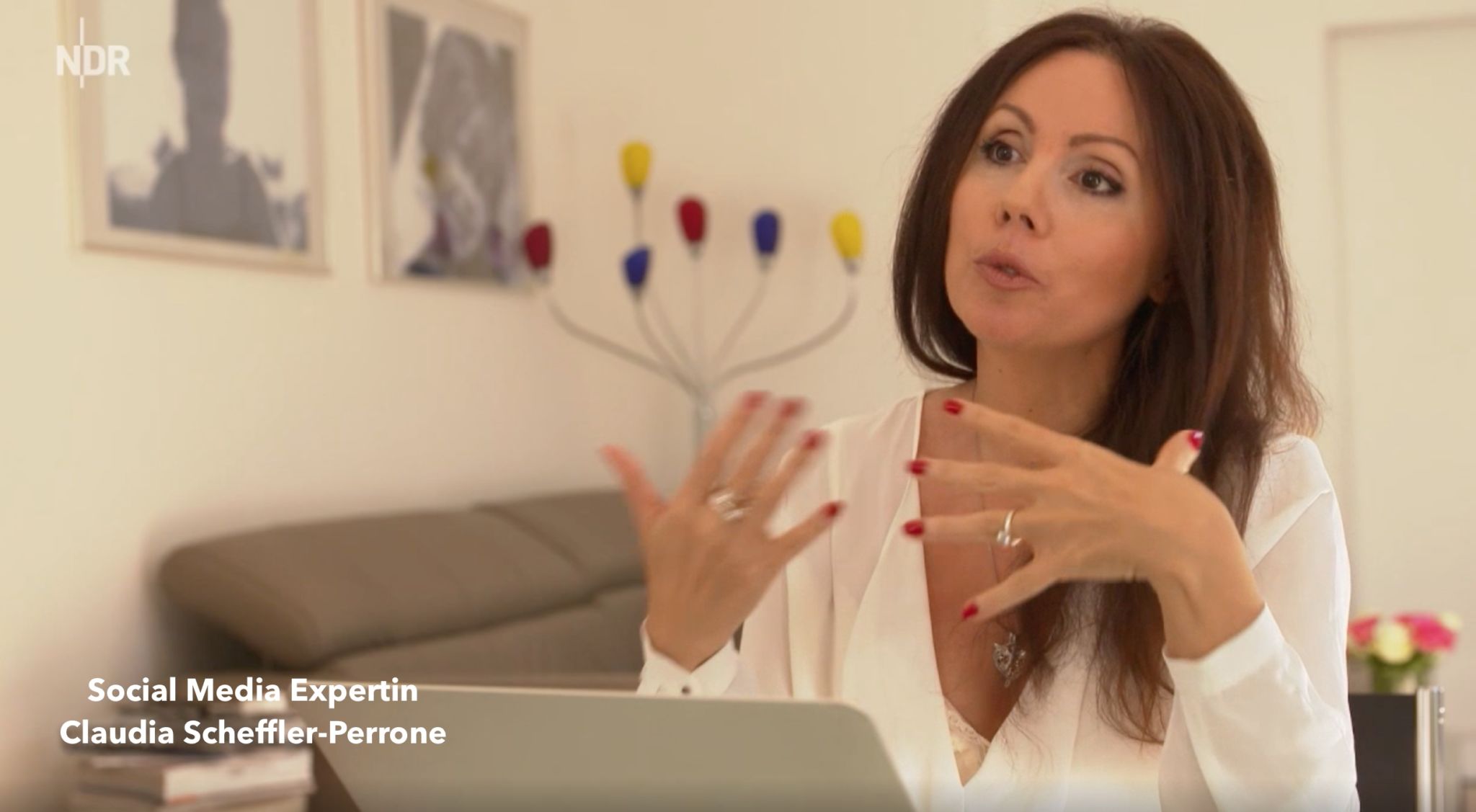 Main TV Chanel in Germany
NDR (Norddeutscher Rundfunk) TV Interview how to use Social Media for professional athletes.
Claudia Scheffler-Perrone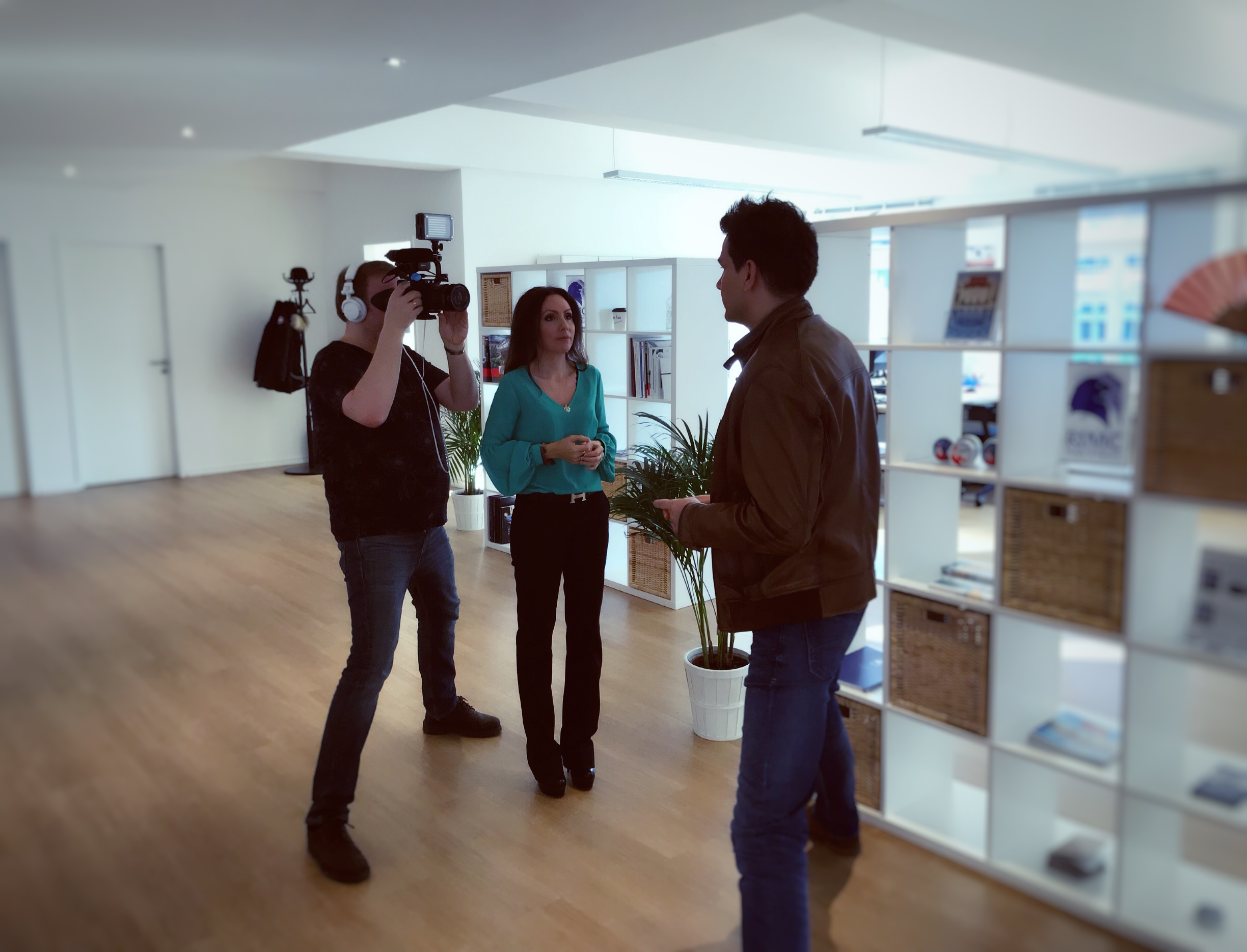 Why Claudia Scheffler-Perrone?
Claudia Scheffler-Perrone doesn't teach theory. She lives what she coaches and trains. She has faced the challenges to build a business, to handle customers, to find the best social media strategies and to create a public image. She always invents new methods and techniques to help her customers and she partners with many experienced entrepreneurs all over the world. What she does is not only teaching, coaching or mentoring because she also uses every free minute to learn more and to train herself.
Who could support your company and you better than someone who understands the challenges of your business? Who can not only help you to grow but also to help you in the best possible way?
There is so much more to say but simply ask her happy clients.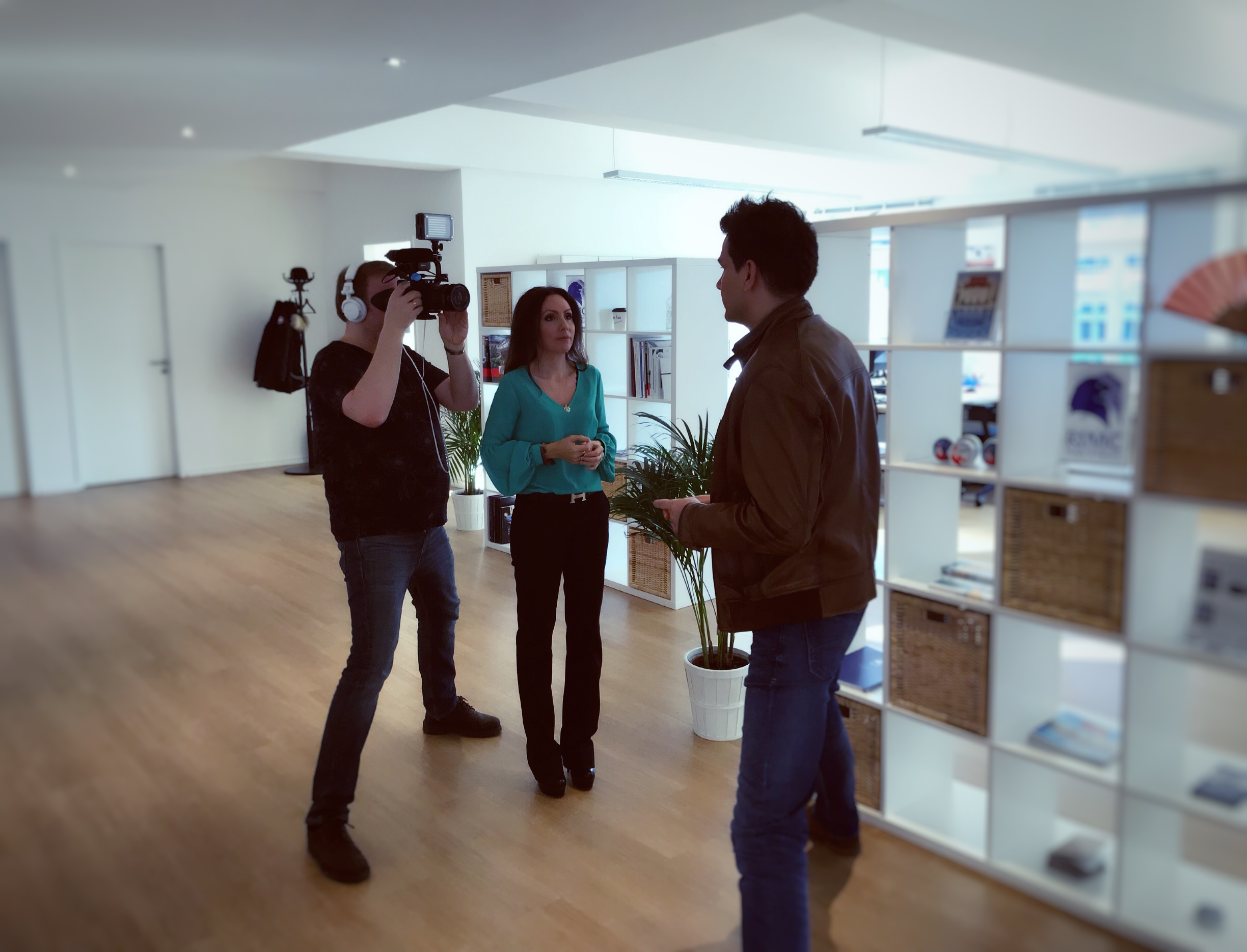 Social Media Coaching / Workshops
As you probably know, an athletes coach does not only coach strategy and skills but they also help to improve and to encourage the players. There are no good players without a good coach. Coaches help athletes to rise to the highest level.
In the business world this is the same. We have to constantly improve our skills and learn. Sometimes we need people – coaches – that helps us to develop our ideas into reality and to overcome obstacles.
We are different kind of coaches, because we have extensive knowledge in marketing, social media, communications and psychology.
You get a coach and a specialist in marketing. Someone who can help you with your strategy, your image, your clients and helps you to increase sales.
We offer online training (leadership and staff), assistance and one by one workshops.
We help you to find the best way through the Social Media Jungle. Your perfect sized way. We offer Social Media Brainstorming, Social Media Analysis, Social Media Strategy, Social Media Concepts, One-to-One Training and most importantly Business Coaching. The advantages are huge. We look inside your company, your Agency, your personal strategy and together we look deep inside how you can optimize your business..